Thank you for your interest in Kraken Basketball Club. The Washington Warriors Basketball Club has joined the Kraken family, and have brought along their awesome leaders, coaches and administrative staff. We are very excited to get started on what is shaping up to be a knockout season for the Kraken Warriors. Please follow the below steps to properly prepare for our upcoming tryouts! 
Training Location
All teams train at The Lair Courts, home of Kraken Basketball & Volleyball Clubs. The Lair is a 4 court basketball / volleyball competition and training center owned and operated by Kraken. The Lair is just 3 blocks North of IKEA with easy access to I-5, I-405 & 167 freeways. 
2019 Season Details
Kraken is holding tryouts to form 2 to 3 boys and girls teams in each of the below age groups. 
3rd Grade | Boys & Girls | Blue & Yellow
4th Grade | Boys & Girls | Blue & Yellow
5th Grade | Boys & Girls | Blue, Yellow & Grey
6th Grade | Boys & Girls | Blue & Yellow & Grey
7th Grade | Boys & Girls | Blue & Yellow & Grey
8th Grade | Boys & Girls | Blue & Yellow & Grey
U15 | Boys & Girls | Blue & Yellow
Tryouts Dates & Times

When you sign up for tryouts, you are signing up for Day 1 and Day 2 together. Day 3 is a makeup tryout for those athletes that could not make Day 1 and 2. Please note that it is always best to attend the primary tryouts which are Day 1 and 2. Day 3 may be also be utilized to see an athlete an additional time to determine their ability to play up a grade.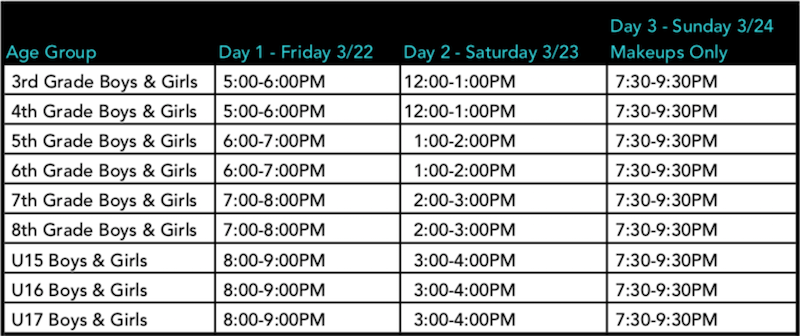 Section 1 - Grade Eligibility

Determine your athlete's grade / age division eligibility by visiting the Age Group Eligibility page. Athletes are eligible to tryout / join older age group teams, but can not participate with a younger age group than their eligibility.

Section 2 - Kraken Tryout Registration
You must be registered online for tryouts. Click the Register now button below to begin the online registration. A registration must be completed for for each tryout date / age group that your athlete plans to attend, including make up dates when they are published and open for registration. You must pay the tryout fee in order to be confirmed for tryouts. Once you have paid for a tryout, there is no need to pay for additional tryout age groups or make-up dates.  Please have your athlete suited up and present at the tryout time stated. Kraken VC Tryout Fee: $20 
(The Tryout Fee payment must be completed on our website within 90 minutes of registering for the tryout. If payment is not completed online within 90 minutes, the system automatically puts your athlete on the Wait-List pending payment.) 

Walkup Tryout Registration - Only if Space Permitting
In the event that you have not pre registered your athlete for tryouts, we will accept walkup tryout registrations 30 minutes before the scheduled tryout time. The registration will need to be completed online via a Kraken computer in the lobby at tryouts and paid via credit card, check or cash. 
Section 5 - Tryout Preparation 

Verify that you have completed all steps in Sections 1 thru 4 above. You must bring completed and signed copies of the required documents and waivers with you to the tyrout. 
Tryout Location
The Lair Courts - Home of Kraken Basketball & Volleyball Clubs
3405 Lind Ave SW
Renton, WA 98057
Parking and Gym Entrances

Must park legally in a lined parking stall meant for a regularly sized vehicle. You may not park in a semi trailer parking spot or in front of a loading dock door. 
Tryout Process
Applicant athletes will be run through a series of drills to evaluate their current and potential basketball knowledge and skills. It is expected that each athlete attend both scheduled days of tryouts in order for the coaching staff to make the best evaluation of the athlete. If the athlete is unable to make both days, they may be invited to attend the 3rd day of tryouts for further evaluation. 
Selections
Selections to join Kraken Basketball Club will be extended based on an athlete's current skills assessment, potential for improvement, as well as best positional fit based on the pool of tryout athletes. 
Team Offer Process
Kraken will: 
Extend offers in writing using the Kraken Letter of Commitment
Give the athlete up to 24 hours to accept or decline the offer
Kraken will not rescind an offer before the 24 hour period
Athletes May: 

Accept offer immediately, sign the Kraken Letter of Commitment, remit signing and uniform payments upon acceptance
Decline an offer immediately
Choose to take 24 hours to make an acceptance decision 
Kraken Warriors Incumbent Signing Policy:

Incumbents follow the same signing process as non-incumbents.
Kraken VC wants athletes to play with clubs and on teams that are the best fit for them.
We hope that our incumbent athletes will attend tryouts with the goal of receiving a Kraken offer.
Kraken VC does not take incumbent offers lightly, incumbent athletes are given special consideration during the tryout process.
Signing Day
Monday, March 25 is signing day for the 2019 Kraken Basketball Season teams. Kraken will have an open house for all new Kraken athletes at The Lair from 6-9:00PM. Parents will bring their completed required forms, and signing and uniform payments can be made in-person if they have not yet been completed, via a Kraken computer.
Forms & Payments Due March 25
Completed Kraken Letter of Commitment
Completed Online Team Registration & Payment Plan registration
Completed Uniform Fee Payment
Medical Release Form Completed Online
National SportsID Registration Receipt