We are excited for the upcoming 2019-20 Kraken Basketball Club season, and hope that your athlete will consider joining us. We have witnessed the play of some amazing youth basketball athletes in and from the Puget Sound, and we are excited to get started on the season with the our amazing staff! Speaking of Staff, we are thrilled to announce that the Y.E.A. Basketball Club is joining Kraken, with talented and nationally competitive basketball teams. 


Kraken is expanding, and we want your athlete to be part of the family. This coming January we will add our 2nd location, The Fieldhouse in Auburn, a multi-sport athletic and recreation center, built in the old Sam's Club at the Outlet Collection Mall. See below more information on our facilities!
The complete information on Kraken Basketball Club and the 2019-20 Basketball Club team season will be posted below. Please make sure to read the entire page so that you are up to date on Kraken and the upcoming season. 
Download and Printable Season Information
(Contents of this page are also available in a PDF version at the links below) 
Fall / Winter Club Teams Info - Boys | Click Here   
Fall / Winter Club Teams Info - Girls | Click Here     
---
The Lair Courts | Kraken North
We opened our first home in March 2018 The Lair Courts. A basketball / volleyball competition and training center, home to all club activities: team meetings, practices, strength & conditioning, private lessons, programs and club parties. The Lair Courts boasts 4 competition ready basketball courts, and 6 full size volleyball courts, an Adidas & Baden Pro Shop with on-site custom apparel decoration, the Abyss'tro Cafe, full workout facilities, and PlaySight on-demand smart video system. 
The Lair is conveniently located 20-25 minutes from about anywhere in the Greater Seattle / Puget Sound area. Easy access to the I-5, I-405 & 167 freeways, and just 3 blocks north of IKEA. We have over 140 on-site safe parking spots, with another 800 in our immediate neighborhood. There are great food choices within a few blocks, including a drive-thru Starbucks, and we are just 3 miles from the Southcenter mall.
Address
Renton, WA  98057
Auburn Fieldhouse | Kraken South | Opening January 2020
This coming December we will add our 2nd location, Auburn Fieldhouse, a multi-sport athletic and recreation center, built in the old Sam's Club at the Outlet Collection Mall. Kraken @ Fieldhouse will have 7 full-size maple hardwood basketball courts and 8 volleyball courts. With our 2 locations, we are excited to expand the opportunities we provide youth to learn and play sports. Kraken will have 11 basketball and 14 volleyball courts within 12 miles, allowing us to host large scale regional and national basketball and volleyball tournaments. 
Address
1101 Outlet Collection Way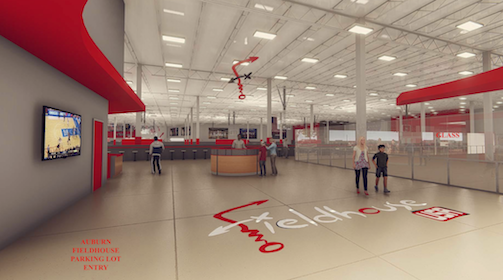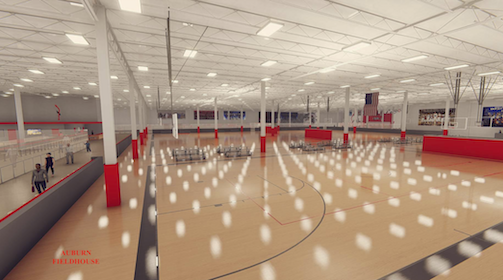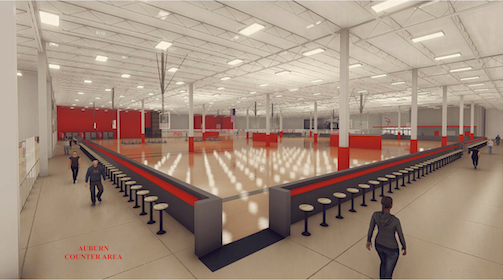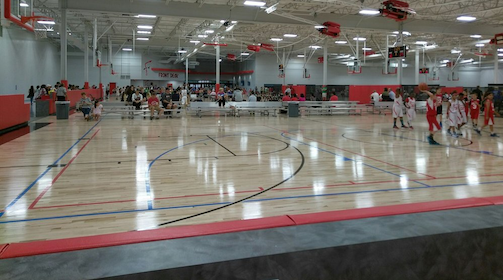 ---
Team Details
Kraken's 2019-20 season tryout period begins November 2nd. The season's tryouts will be held at The Lair Courts, and we will field teams for both locations, Lair and Fieldhouse. All Kraken teams will practice out of The Lair Courts through December, with the Fieldhouse teams transitioning to the new location in December. Kraken will form 2-3 boys and 2-3 girls teams in the 3rd thru 8th grades, and 1-2 boys and 1-2 girls teams for 15U, 16U & 17U for each of our 2 locations. We will also have a Mini-Krakens league in the Fall.
Season Dates
2nd - 8th Grades | Coming Soon
15U - 17U | Coming Soon
Team Practices
Twice weekly team practices of 1.5 Hours / night,  Mondays thru Fridays. Additional training classes will be offered throughout the week for those athletes that would like to work on a specific skill or just want the extra training time. 
3rd & 4th Grade Teams | Boys & Girls
2 practices a week | 1.5 hours / night within the hours of 4:00-7:00PM
6th, 7th & 8th Grade Teams | Boys & Girls
2 practices a week | 1.5 hours / night within the hours of 5:00PM-9:00PM
U15, U16 & U17 Teams | Boys & Girls
2 practices a week | 1.5 hours / night within the hours of 5:00-9:30PM
Strength & Conditioning 
30 minutes before or after team practice once a week (7th Grades - 17U)
Team Practices Begin
Youth - 2nd - 8th Grades | December
15U-17U | March 2020
---
Team Competition Schedules
All Kraken teams will compete in 10-12 tournaments in the 6th month season, some teams will play a combination of a league and tournaments. Top teams may compete in travel tournaments outside of the Pacific Northwest, including AAU Nationals. Kraken will form 2-3 boys and girls teams in each age group for both of our locations. 
Once tryouts are complete, the season schedule will be formulated to put each team in the best competition scenario for their level. We strive to challenge our teams to compete at the highest level possible. 
---
Club Team Tuition Info
Details regarding our upcoming 2020 Season Tuition Costs and Payment Schedules are coming soon. Signing Payment and uniform fee is due with completed player and club handbook contracts upon offer acceptance.
Program Info Book - Coming Soon

Tuition Includes
Twice weekly practices 1-1/2 hours / night

Strength & Conditioning (6th-17U)

Average 2+ competitions / month

Training Technology Equipment

Facility Costs & Insurance

Tournament Entry Fees (Regular Season)

Free Kraken Basketball Camps
Tuition Does Not Include
Uniform Costs

Athlete's AAU Membership

Athlete's Travel Costs

Travel meals & spending money

Elected Training Class Costs

Player's Equipment: ankle / knee braces

Sport ID Registration
Uniform Package
Reversible Jersey

Reversible Shorts

Basketball Shoes

ackpack

Kraken Shooting Shirt

Kraken Practice / Training Shirt

Custom Kraken Strideline Socks

Baden Basketball
Team Elected Tournaments & Travel
Teams may elect to attend additional destination competitions outside of the Pacific Northwest. Quoted costs are for those tournaments and cover team entry fees, coaches and chaperone airfare, coaches food stipends, coaches and athlete's accommodations and team van rentals based on 10-11 athletes and a sliding scale. Athlete's airfare and meal expenses are not included. Travel Payment payment plans will be setup for each tournament. Please see our Travel Page for complete details on travel policies.
---
Fundraising
Kraken makes every effort to keep the costs of our programs low through various fundraising efforts. Kraken hosts adult skill clinics and tournaments, with a portion of the proceeds benefiting our youth programs. Club Fundraisers like Brown Bear car wash tickets, help offset our operating costs, and any tickets sold over the player minimum go directly to the player's Kraken Account, which they can use towards monthly dues, travel expenses and Kraken Gear.
Some examples of Club and Individual Fundraisers are:
Kraken shoot-a-thon

Brown Bear Car Wash Ticket Sales

Krispy Kreme Donut Sales

Kraken Apparel Fundraiser

Cookie Dough Fundraiser

Hosted adult & junior tournaments
2020 Season Tryouts

You can register your athlete for our upcoming tryouts on the 2020 Tryouts Page.